Cats on Broombas
A downloadable game for Windows, macOS, and Linux
You are Billie, an 8-year-old left to her own devices. Imagine the possibilities! Your favourite game is dragging out all the stuff from the garage and setting up a maze of sorts for your cats.
Well, not for your cats exactly. Your cats on Broombas. Broomba is that new robotic vacuum cleaner your mom told you not to play with..
But she is not here, is she?

And we won't tell.
---
What is it?
Cats on Broombas is a puzzle-game with EGA graphics developed for #dosgamejam
Your objective is to route the Broomba to collect all the stars. Broomba moves in a straight line until it hits an obstacle after which it does a counter-clockwise turn. There are special objects in addition to static clutter. Your objective is to collect all the stars.
It takes inspiration from several old games but mainly from The Incredible Machine, I think.
Jam Edition
Due to time constraints the jam edition only contains 9 levels. More levels will be added in upcoming versions expanding the collection of objects to play with.
---
This is a DOS game, so you need DosBox to run it. Download DosBox or one of its frontend applications for your platform of choice.

Download
Click download now to get access to the following files:
Version 1.0 (Jam Edition)
540 kB
Comments
Log in with itch.io to leave a comment.
If anyone is stuck on levels 8 and 9 here's how to do it:
Level 8:
Level 9: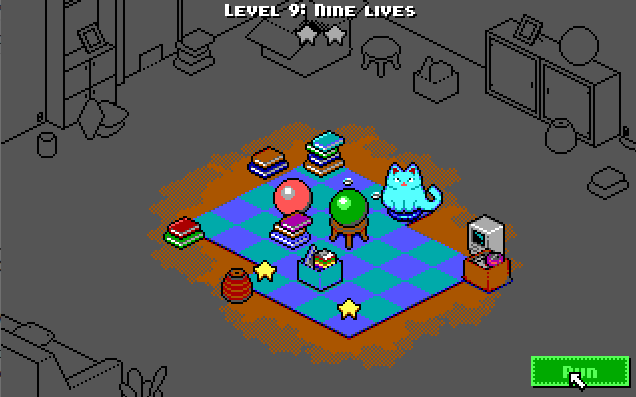 Ah, interesting! That's a different solution for level 9 than I had designed but I suspected there could be more solutions based on how much room there is to maneuver. My solution relied on knocking the green ball off the table. I'll see if I keep it or tweak it.
l know but l thought that forcing the cat to go 180 degrees back was much easier than using the actual purpose of the green ball.
Woah dude, l thought you would never appear again after city clickers. Really cool game! Hope you the best :)